3 Wishes Call of the Sea 3WI17987-MLT-CTN-D Mulit PNL 36"x42"

Call of the Sea


3 Wishes Fabric Polar Journey Panel 3WI17980-MLT-CTN-D 36"x44"

Polar Journey


A Sunny Day WW-3017-7C Three Horses in Pasture 36" Panel By Wild Wings
Benartex Dog On It 6250MB-12 Black/Multi Dog on It PANEL w/Metallic 24"

Black/Multi Dog on It Panel w/Metallic


Benartex Spring Hill Farm Panel 13244-99B 24"X44" Grey Multi
Benartex Welcome Fall 24" PANEL BEN1835-77 Expresso/Multi
Blank Quilting for Stof S-Digital S-4545-103 Flower Art PANEL 45" x 44
Blank Quilting Love-4-Cotton 9443-90 Gray Panel 18" X 44"
Clothworks Busy Street Storybook Panel CLTY3198-56
Clothworks Barnyard Buddies Panel SB20324-815 Lime
Clothworks SusyBee Harold the Hare Panel 36 X 44" SB20376-930 Aqua
Contempo Farm Sweet Farm Panel CON6839-52 24"X44"

Farm Sweet Farm


Contempo Words to Quilt By Panel CON6971-99 24" X 44" Squares w/ sewing sayings

Words to Quilt By


David Textiles American Freedom Panel AL38179C1 Red Truck 35" x 44"
David Textiles Four Exclusive King PANEL AL46051C1 36 IN
Elizabeth Studio Happy Trails ELS6800-BLA Panel .625" 2/3Yd. ea.
Elizabeth Studio Morning Glory Moose Panel ELS9205- BLA 23"X44"

Black Moose Panel


Elizabeth Studio Mule Deer in Sage 7200 Black Panel
Elizabeth's Studio Good Old Days PANEL 9609E-BLK
ELIZABETH'S STUDIO VINTAGE TRUCKS PANEL 23" X 44 21000CREAM
Elizabeth's Studio Winter Song PANEL ELS9409-WHI Holiday
Elizabeth's Studio Winter Sunrise Panel ELS7903-SNO 32"X 41"
Out of Stock
ENDLESS SUMMER HORSE HEAD SPR47776-A620715 PANEL
Out of Stock
Fosal Vintage at the Farm 35.5"X44" Panel AL 3808 9C Red Tractor Red Barn
Four Season Portraits of Perfection Horse Panel 36"X44" FOSJQ-0126-1C-1

Portraits of Perfection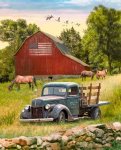 Four Seasons Truck Panel By: David Textiles 36"X44" GG00540C1 Truck, Horse, Barn
Gnome for the Holidays Soft Book HEG9618P-77
Henry Glass 24 " PANEL Rodeo Roundup 6900P-33
Henry Glass Here We Glow Panel HEG9545PG-93 Glow in the Dark 24" X 44"

Multi Here We Glow Panel Glow in the Dark Fabric 24in


Hoffman Call Of the Wild Panel P4356-44 Black Bear Forest 28"X44"
Hoffman Call of the Wild Bobcat Panel T4909-154 34"X44" Teak
Hoffman Call of the Wild Buckskin Mystic PANEL U5018H-102 30" x 44
Hoffman Call Of The Wild Eagle PANEL 30x44" Q4489-16
Hoffman Call of the Wild Elk Panel U5068-151 Sunset 35" X 44"
Hoffman Call of the Wild Horse PANEL 32" x 44" T4861-669 Noir
Hoffman Call of the Wild Moose Panel S4797-623 34"X44" Umber
Hoffman Call of the Wild Owl Panel T4908-66 Autumn
Hoffman Call of the Wild PANEL 36"X 44" R4612-700 River Forest Rusty
Hoffman Call Of The Wild Panel Q4490-141 Cougar
Hoffman Call of the Wild Panel R4594-147 Storm Bear