Out of Stock
Crazy Charm Crazy Runner Kit CCCQUILLC10192018 13"X57" Bind & Back Incld.
Square in a Square Kit SQUAREINASQUARE032118 Moda Pie Making Day 44"x56" incl. binding
All About Simplicity ALLABOUTSIMPLICITY7122019 Kit 43x57 Bind. .I. C.
All Squared Up Table Runner Kit ALLSQUAREDUPORANGE01092018 By: Cut Loose Press14.5"x43.75" Orange and Teals
Autumn Woods Homegrown Quilt Kit 48" x 72"
Bee Skep Pincushion Kit BEESKEPPINCUSHION Wool
Big Love Wall Hanging KIt 34 X 34 BIGLOVE11202019
Blue Batik Center Stage CENTERSTAGE01102018 Table Runner kit 17.5x46 in Bind. incl.
buildingblocksdots
Buttermilk Basin August Wool Kit Mini Vintage Truck 6.5"X11"
Buttermilk Basin Penny Mats Thru the Year August 8.5 inch Round BMB36 Kit
Campfire Friends Kit friendship song BTBQ164 48" X 54" BINDING INCLUDED
Cozy Camping Quilt Kit Roam Sweet Home 56" Sq. Bind. Incld. KIT-MASRSH
Out of Stock
Crayola Pillowcase Kit KT-2235 Dream
Out of Stock
Day Hike Flannel throw kit DAYHIKEWOOL&NEEDLE02052020 54"x60" kit
Divided by 3 Christmas Table Runner Kit
Echo Kit ECHOBEARKIT8182019 68" X 54" Border & Bndg. Incl.
Frivol Variety #11 Sew N' Sew Chloe's Closet
Grant Park Quilt Kit GRANTPARKKIT10252019 Moda 25.5" X 25.5"
Hearts & Blooms Pincushion Wool Kit WWB-344 Heart & Flowers
Out of Stock
Hearts and Blooms Pincushion 6" Lady Bug's Garden
Out of Stock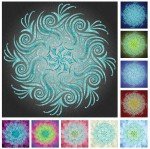 Hoffman Supernova Spiral Kit Aquarius Laser cut SNS2KIT-536 41"X41" Background not incld.
Out of Stock
Hoffman Supernova Spiral Kit Fundamentals Laser cut SNS2KIT-635 41"X41" Background not incld.
Out of Stock
Holiday Meadow Wall Hanging 38" X 57" BindIncld.
Homegrown Table Runner KIT HOMEGROWNTABLERUNNER102019 12.5" x 28.5" Incld Bck & Bnd
Japanese Garden POD Kit POD-MAS01-JAG
Out of Stock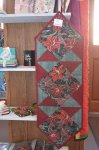 Jubilee Table Runner Kit JUIBLEETABLERUNNER1262019 17X36 bIND/back incl
Lotusland's Completes Kit Applique w/ patterns and fabrics
Majestic Moose Kit MAJESTICMOOSE04152018 76"X76"
Maywood Studio POD Irish Chain Java Batiks POD-MAS06-JAB Purple & Blues
Out of Stock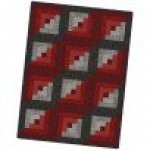 Maywood Studio 12Block POD Log Cabin POD-MAS02-WOF4 Brickwork Flannel
Out of Stock
Maywood Studio 12Block POD Log Cabin Table Runner The Little Things POD-MAS01-TLT Kit 24"X32"Everything incld.
Out of Stock
Maywood Studio Bejewled Batiks KIT-MASBEJ 48" x 60"
Maywood Studio Christmas Ribbons Table Runner Kit-MASPAP
Out of Stock
Maywood Studio Coastal Getaway POD-MAS08-COG Kit Corner Cabin Quilt Pod 36"x 48"

Corner Cabin Quilt Pod


Maywood Studio From the Farm Kit KIT-MASFTF 44"x60"

From the Farm


Maywood Studio Hologram Moongate Kit MASHOL

Moongate


Maywood Studio Love is..Quilt KIT-MASLOI 48" X 60"
Out of Stock
Maywood Studio Moongate POD--MAS01-MOO Runner Kit Log Cabin 13" X 45"

Moongate